Weigh Categories

Model SK16W
ITA Class II
5,500 lb Weigh Capacity
(16" Carriage Height)
***
Model SK20W
ITA Class III
11,000 lb Weigh Capacity
(20" Carriage Height)
***
Model SK25W
ITA Class IV
22,000 lb Weigh Capacity
(25" Carriage Height)

Installs On All
Standard ITA
Cleat/Hook-Type Carriages






Wireless SKW Dual




(Standard Forklift

)



Wireless SKW Single

(Spear/Carpet Pole

)



Accuracy:




SEKO

forklift weigh modules collect load informnation through direct loading of NTEP Certified S-Beam type load cells. Load cell Combined Error is 0.02% of full scale.

System accuracy is 0.1% (1/10%) of full scale, +/- one display increment.

SK16W and SK20W models utilize 5t (11,000 lb) rated full scale load cells.
The SK25W model utilizes 10t (22,000 lb) full scale load cells.

Each weigh module contains one load cell, providing significant over-capacity capability without sacrificing accuracy.

Battery Technology


SEKO

wireless forklift scale modules are powered by safety tested and rechargable lithium-ion batteries. Standard battery packs provide more than 1,000 hours continuous

operation with 100 hour reserve capacity.

(Other battery capacity options available.)

All

SEKO

Wireless Scale Indicators are provided with a flashing Red LED indication to alert the opertor that recharge is necessary.

Standard battery packs provide a

100 hour reserve capacity

to allow weigh module charge scheduling.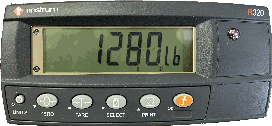 Energy Saving to Extend Operating Time per Battery Charge
:
Wireless energy-saving programming combined with high-efficiency circuit design extend practical operating time proportionately to the actual weighing operations.
If the load detected by the scale does not change more than 5% over two minutes, the transmitters (battery-powered) will go to sleep, conserving battery capacity until a significant weight is detected.
Click Here for Dimensions:
Contact Us!
Call Today
800-594-9288
+01 307-321-4505
SEKO

Forklift Scale
Cost Effective
Extremely Rugged
Very Accurate: Error
+/- 0.1% (1/10%)
***
Batching
Additive and Subtractive
***
Piece Counting